about our music classes
Class times
St Mary Bourne - Mondays
0-15 months:
1-4 years:
1-4 years:
Jolly Babies
Music with Mummy
Music with Mummy

10.20am
9.40am
11:00am
Whitchurch - Tuesdays
0-15 months:
1-4 years:
1-4 years:
Jolly Babies
Music with Mummy
Music with Mummy
10.20am
9.40am
11.00am
Overton - Wednesdays
0-15 months:
1-4 years:
1-4 years:
Jolly Babies
Music with Mummy
Music with Mummy
10.20am
9.40am
11.00am

See Contact page for venue details


Term dates


Both regular and private classes are run during school term times. The current term is:



23 April - 24 July
(no classes w/c 27 May)

Classes are small with a familiar mix of nursery rhymes and traditional songs but the majority of tunes we sing are new and composed especially for Music with Mummy. With a mixture of action songs, movement, percussion time and good-old-fashioned singing, the emphasis is on having fun and enjoying music. We take the time to develop your child's confidence and make music part of everyday life in a calm and happy environment. There are two types of music classes available:


Jolly Babies (0-15 months)
: a delightful first introduction to music – a half hour of bouncing, singing, percussion and movement where you can bond with your baby and make friends. Classes are small and carefully structured for young babies, starting gently, building to a stimulating middle section and then slowing to a calm ending.


Music with Mummy (1-4 years)
: this is the next step on from Jolly Babies and continues our musical journey. The main aim is to teach basic aspects of music whilst having fun. Classes are kept small which helps build confidence and familiarity. Each half term we introduce a new theme and incorporate different learning concepts such as loud and soft, fast and slow, rhythm. There is always percussion time and lively activities with the chance for

high quality interaction. Social skills – listening, sharing and turn taking - are an important part of these classes.


what are the benefits of music classes?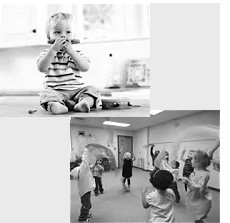 Developmentally there is much research to support the positive benefits of introducing music from a very early age. By helping to build an appreciation of music early this can greatly assist with language development, increase confidence and strengthen the parent/child bond.

Both parents and carers often say how much fun they have had in the classes and come back year after year, with future siblings too! Not only do the children have fun but as a parent or carer it is also a great way to make new friends.

Classes help increase social skills, sharing and turn-taking.

Classes are small and carefully structured to stimulate and encourage interaction.

Each week the children engage more and more in the classes helping to develop their appreciation of music.


To reserve your place or for a course schedule please or call her on 07826 306948.